Hire Fantastic Fairies For a Girls Fairy Themed Birthday Party in Sydney.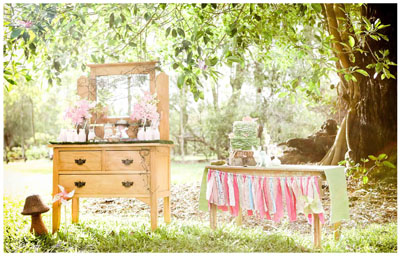 If your birthday girl is a true believer of fairies then this is the fairy birthday party show for her. Hire a fairy princess themed girls birthday party Host in Sydney.
Book a full hour of fun-filled fairy themed Sydney birthday party entertainment for your beautiful little fairies,princesses and princes.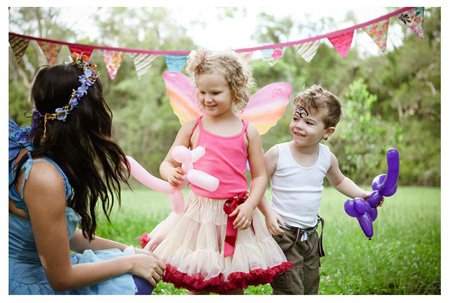 As well as being teacher trained, your experienced girls fairy birthday party entertainer will turn up to any party in the areas of Sydney.
This 1 hour birthday party entertainment fits perfectly into a 2 hour fairy princess themed birthday party…*
If you are having your host for 1 hour it is best to have our birthday party fairies appear at your themed fairy party 30 mins after the fairy birthday party starts to make sure that everyone has turned up and are ready to play fun filled fairy party games. If you are choosing the 1.5 hour option, your Sydney Fairy Princess will be there to meet the boys and girls as they arrive at your daughters fairy themed birthday party.

Gather your little girls birthday party friends ready for the grand entrance of the fairy princess entertainer… then sit back and watch their faces…
Marvel as your daughter's Fairy birthday party entertainer seamlessly weaves challenges and stories into the birthday party
games,  plays fairy princess dances and activities. Even some of the parents and guests get included in a couple of the games too! Your Sydney birthday party entertainer has been trained to be flexible with the needs of the children at your little girls' fairy princess themed birthday party. Your fairy party entertainer is also a qualified school teacher to make sure that all the children have the best time in a controlled but fun environment.
Shy children will have softer fairy birthday party games and lively children will play loud, energetic fairies birthday party games.
Calm Fairy Princess Themed Birthday Party Games
Your little girls Sydney Fairy themed Birthday Party host will introduce herself to the children and set up the scene of wonderment in their imagination.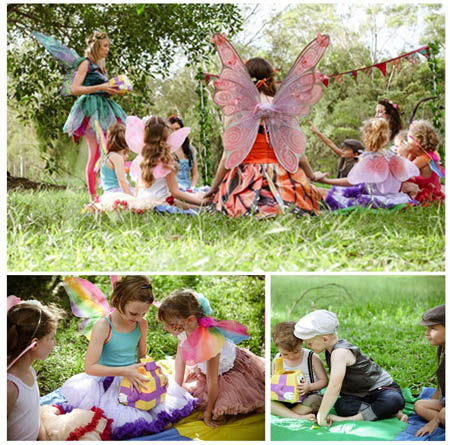 Every Birthday Party Child will get "Neverland Dust"
sprinkled on them to make them really believe they are meeting a Fairy. The boys and girls at the fairy birthday party are then ready to play the Neverland
games. Your experienced Sydney Fairy entertainer starts softly at first, to build up confidence and imagination. Fairy birthday party games such as "Fairy, Fairy, Troll" and "Sleeping Beauty"will get your daughter's friends ready for more active girls fairy themed birthday party games!
Fairy Themed Birthday Party Action Games
This will really get the mini birthday party fairies excited. The action continues with Fairy Birthday Party Dances Led my your child's Sydney Fairy party entertainer. Your Sydney fairy birthday host knows all the actions so you don't have to do a thing!
The games will be get up and go so please allow a good space for your daughter's friends to play in. An average sized back yard is Perfect!
The Fairy birthday party games flow smoothly from one to the next and your daughter's friends remain enthralled throughout the fairy party with stories and humour all the while your daughter's Sydney Fairy Princess birthday party entertainer stays in character. You will notice up to 20* very happy girls and boys, hilarious to watch, transform before your eyes into mini fairies and cheeky pixies.
Balloon Modelling & Story Telling
Your daughter's Fairy birthday party entertainer in Sydney amazingly makes up to 20 balloon models of flowers, swords for boys or sausage dogs in just 10 minutes all the while the children at the fairy birthday party are scattered around her asking questions of what it is really like to live in Neverland.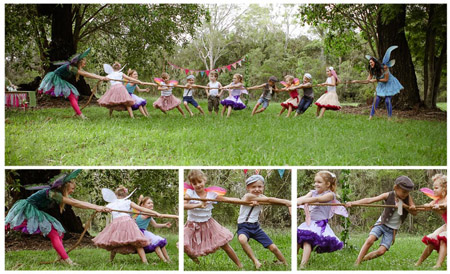 Parachute, Prize Giving & Birthday Song
Your daughter and her friends will absolutely love the final part of the Sydney fairy birthday party entertainment– parachute fun! The Sydney Fairy birthday party entertainer and friends will give your daughter a completely safe birthday swizzle – your daughter sits in the middle of the parachute and has the best roundabout ride from her friends as they sing Happy Birthday!
Extra 30 mins (optional extra at $50) Pass the Parcel and Fairy Wand-Making Craft Workshop or face painting.
Your little girls birthday party fairy entertainer will surprise all of her new friends with a game of pass the parcel with fun toys, yummy lollies and prizes to choose from. The Fairy children believe that this is a magical pass the parcel that knows who has yet to win a prize. The fun continues at the fairy themed birthday party with everyone making their own fairy party magic wand which they blow their special fairy wishes into it to fly off to Fairyland. The little fairies and pixies get to take home their own hand-made magic wand as a memory of the fairy magic that they believed in at your little girls fairy birthday party. All pass the parcel, prizes and resources for the fairy magic wand workshop for each child are provided.
The Finale
Finally,  your daughter is presented with a present from her special Fairy Princess birthday party entertainer in Sydney. The girls and boys at the fairy themed birthday party then have photos taken with your special guest before the Fairy entertainer whisks off into the sunset…
Time for party food, birthday cake & lolly bags – Everyone goes home and you have a glass of wine while watching your daughter open all her birthday pressies. – A FANTASTIC JOB WELL DONE

Quoted price for up to 20 children There is a surcharge of $10 Per Child After 20. Absolute Maximun for one character is 25 children – If more that 25 children have been invited two Sydney Birthday Party Entertainers will be required as an additional expense. )